About Us
Working with friendship, goodwill and mutual respect, the Friends of Lospalos aim to build capacity and advance the self-sufficiency of the people of Lospalos consistent with the principles of cultural, social and environmental sustainability. Learn more about our mission, our vision, and how we go about making the changes we want to see.
History of the Mornington Peninsula Friends of Lospalos.
The Mornington Peninsula Shire, together with the Mornington Peninsula community, has had a special friendship relationship with Lospalos, Timor-Leste since 2000. The friendship committee is essentially a 'Community to Community' and 'Local Government to Local Government' committee with its focus being on fundraising for much needed community development projects recommended by the Lospalos community leadership.
Council, at its meeting held 18 October 2004, established as a Section 86 Committee - the Mornington Peninsula Friends of Lospalos East Timor Special Committee. An Instrument of Delegation was endorsed by Council at its meeting of 7 March 2005. A Memorandum of Understanding by all parties was signed in 2008.
In 2014, the Timor-Leste Government through Local Government Victoria (LGV) invited key local government authorities with friendship relationships to formalise its assistance, advice and support as Timor-Leste moves to provide better services to their local population and to establish local government in its districts.
The Committee meets monthly and its meetings are open to all members of the Friends of Lospalos as well as members of the public. Executive representatives meet regularly with the Victorian State Government Local Government Timor Leste Partnership Network. There are 15 participating Victorian Councils.
Our strategic plan
The Friends committee developed a forward-looking strategic plan for 2020-25.
The Plan has three priority areas: relationship development, growth & sustainability, and project planning & development.
The strategy will help guide FoLP's current and future work as well as inform donors of our purpose, direction and goals for the next five years.
The committee will release yearly updates on work progressed.
To partner with us to achieve these goals, get in touch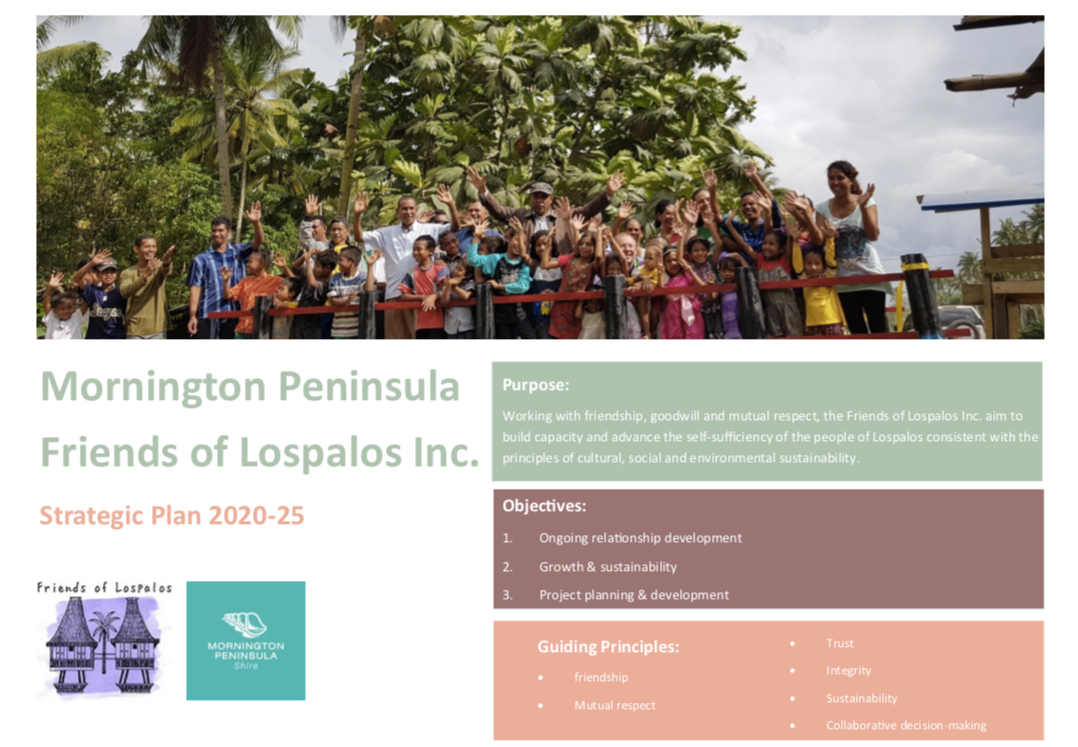 Support and win
When we empower others to succeed, we all win. (And we're not talking about participation trophies.)
Open communication
We're big fans of transparency for many reasons, but the abridged version is: it makes easier.
AUSTRALIAN TIMOR-LESTE FRIENDSHIP NETWORK
The Friends of Lospalos are members of the Australian Timor-Leste Friendship Network.
The Australia Timor-Leste Friendship Network (AusTimorFN) was established in 2009. One aim was to improve communication with the Timor-Leste Department of State Administration. AusTimorFN also supports Friendship Groups in communicating and sharing ideas and experiences.